Etam, one on the leader in the lingerie sector in France launched in July the option for their customers to save their loyalty card directly in the native application, Apple Wallet!
Customers who subscribe to the Etam loyalty program are rewarded with stars every time they shop at a store or online. When they have reached a certain number of stars, customers gain rewards.


The first time customers subscribe to the loyalty program, they receive a welcome email with the option of saving their loyalty card directly in Apple Wallet :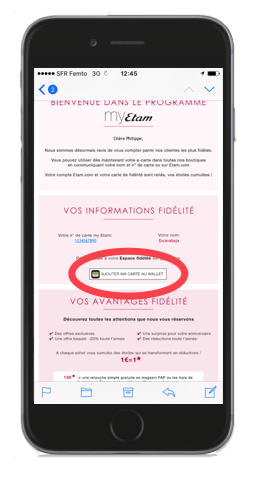 2.When clicking on the CTA "Add my card to Apple Wallet", only more click is needed to store the card on the smartphone :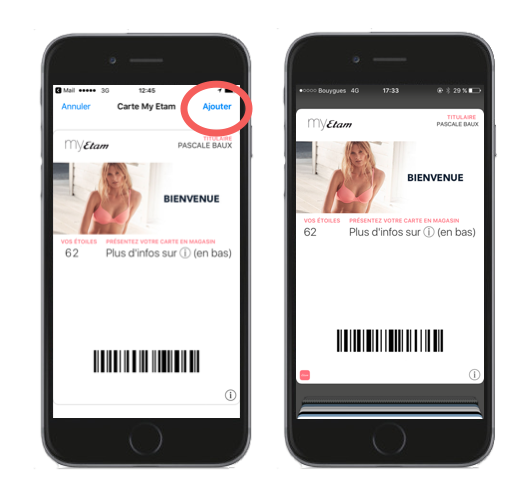 3.Once the card is stored in the smartphone, Etam can notify and communicate in real time with the customers by providing them the relevant information such as their balance, their rewards, new offers.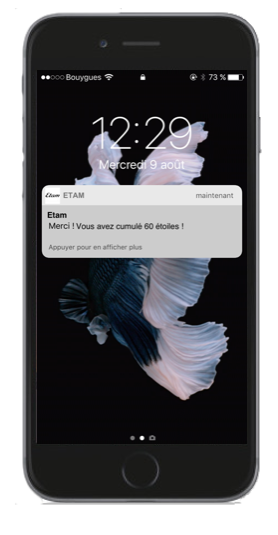 BENEFITS FOR THE BRAND TO USE #MOBILEWALLETS FROM A MARKETING PERSPECTIVE:
Offer a strong digital experience to customers.
Leverage their loyalty program by reaching more customers thanks to a native application.
Take advantage of a powerful touchpoint on mobile to communicate easily with customers.
Create a one-to-one communication with customers : provide in real time the balance, rewards through push notifications.
Be able to push new offers on the same card.
Boost the conversion rate of the loyalty program.
BENEFITS FOR THE CUSTOMERS TO USE #MOBILEWALLETS:
Benefit from a seamless experience as customers can save their loyalty card directly on their smartphone in just two clicks.
Know in real time their balance, offers, rewards without having to login in the website.
No more risk to lose the card or forget it.
HOW #MOBILEWALLETS BOOST LOYALTY PROGRAMS ?
More than just the payment, mobile wallet are a communication channel on your customer's smartphone that cannot be removed/deleted; That's huge, if you think in terms of potential of people that you can reach thanks to this app.

According to a Forrester research on mobile wallets, 57% of consumers would like to use mobile wallets to save their loyalty programs, points or rewards.

Mobile wallets do solve the problem of forgetting the membership at home.

Push notifications enable brands like Etam to remind customers about their offer/voucher and encourage them to use it.

Customers have access in real time to their information about the rewards without having the need to login into the website or ask in a shop.