After Airline companies, rental cars are following the trend of mobile wallets.
When making a booking with Europcar app, the number one car hire company in Europe gives you the possibility to store your reservation in Apple Wallet at the end of your booking!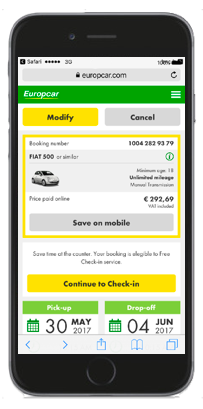 Benefits for the customer :
No need to print the booking anymore or look-up for the booking email.
Save time at the station and have direct access to the booking from the lock screen of the smartphone.
Be informed in real time about the important information of the booking.
Be able to receive relevant & personalized offers.
The reservation card is localised in the active langage of the user. The feature deployed by Carving Labs is available worldwide.