A recurring question that we are often asked is: Why so few brands offer in their communications channels the option to save coupons/ loyalty cards directly in the smartphone?
Many brands are still unaware of the ease of use of Mobile wallets and how to include this powerful solution in their marketing and digital touch points (e-mail,SMS,social networks,app).
Allow your customers to save coupons,offers and loyalty cards directly in their smartphone in order to increase your redemption rate in-store and communicate with them in the long run.
When a brand displays a CTA "Save my offer" in one of their communication channel the purpose it to engage easily and efficiently with customers and create/provide a sustainable entry point in the smartphone of their customers.

Retention rates of apps nowadays are incredibly low especially over the three months after first use compared with the retention rate of a coupon in a mobile wallet:the metrics of our campaigns show that 90% of customers keep their offer in Apple Wallet or Android Pay after they used in in-store.
HOW TO DISTRIBUTE OFFERS AND LOYALTY PROGRAMS THROUGH THE MAIN DIGITAL MARKETING TOUCH POINTS?
1. Email:
Email is the simplest and one of the most powerful channel of communication where it is easy to place a CTA wallet option. The brand adds a clear CTA on the mail that includes the wallet logo and the URL of the pass embedded to propose the customer to save the offer/loyalty card on their smartphone when viewing the email on a smartphone.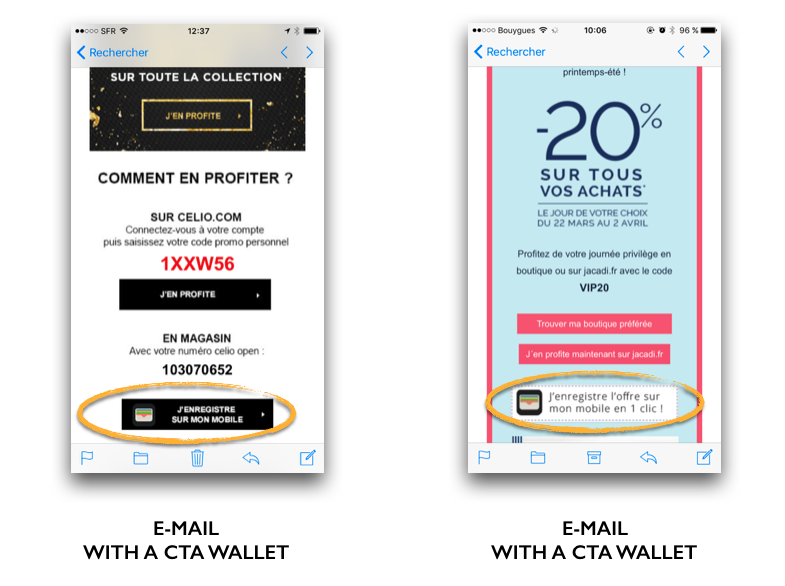 2. SMS:
Still widely used, brands that communicate with SMS just need to insert the URL of the coupon in the message to offer an easy installation in just two clics.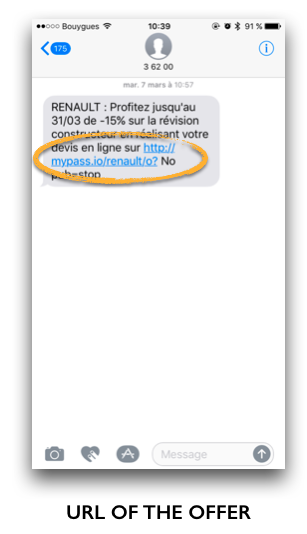 3. Application:
A great benefit of offering the wallet option in an application is to maintain your customers in your CRM database in case they delete your app. You still can communicate with them afterwards through push notifications as the offer/loyalty card is directly stored in the Apple Wallet or Android Pay application.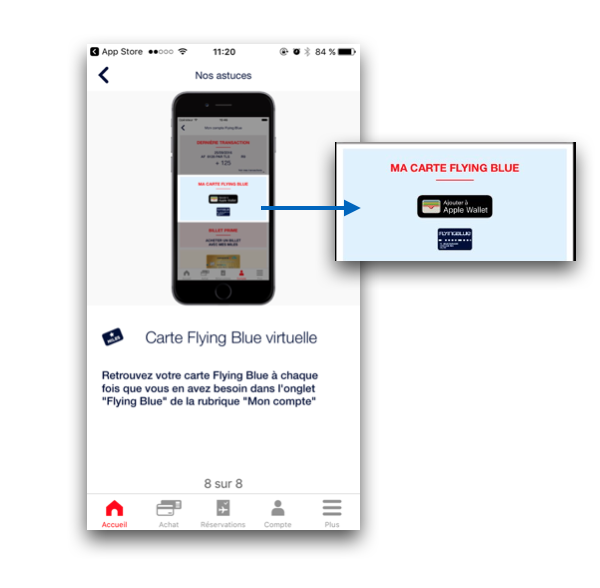 4. Social Networks:
Social networks, such as Facebook, are a very powerful channel to push your offers and acquire new customers as you can define and target a specific audience that will see your offer in their mobile Facebook newsfeed.
You define the CTA on your ad that will lead Facebook users to click and download your offer.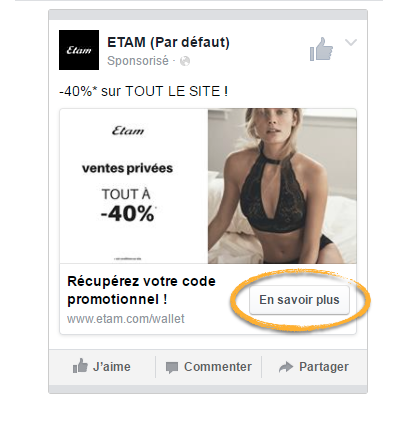 Carving Labs offers strategic knowledge and insights to maximize the usage of the native mobile wallets in your marketing touch points.
The metrics of our campaigns show that on average:
60% of iPhone users clicked on the "save to my phone button" in the mail.
70% of these people added the coupon to their wallet.
For more info, send an email to:contact@carvinglabs.com