We are delighted to announce you that another brand is working with Carving Labs for the mobile wallet solution!
Jacadi, the authentic and timeless children's French fashion brand is now using the mobile wallet solution for the French market to boost the usage of their loyalty program :
How does Jacadi use mobile wallets?
Clients who subscribe to the Jacadi loyalty program accumulate points for each purchase that give them the possibility to receive a reward voucher by email of 10€ when they accumulated a total of 200 points.
1/ When the customer reads the mail on the smartphone, the CTA "save my voucher on my smartphone" appears.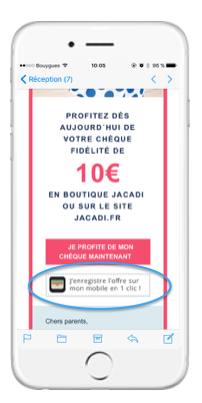 2/ In two clics, the customer saves the voucher in the smartphone and does not need to print it.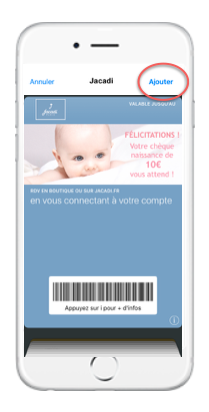 3/ Customer can redeem the voucher directly in-store or on www.jacadi.fr
4/ When the voucher is redeemed, the customer receives personalized offers on the same voucher that has been updated.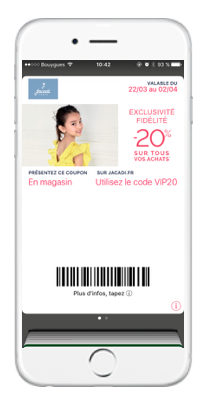 Benefits for the customers :
Benefit from a seamless experience as customers can save their reward voucher directly on their smartphone in just two clicks.
Skip the entire process of having to print the voucher.
No more risk to lose the voucher or forget about it.
Benefits for Jacadi :
Offer an exclusive and different user experience
Be able to remind the customer about the offer thanks to push notifications
Boost the use of the loyalty program
Be able to communicate new offers on the same voucher once it has been redeemed
Increase the conversion rate of the loyalty program
How mobile wallets boost Loyalty Programs?
More than just the payment, mobile wallet are a communication channel on your customer's smartphone that cannot be removed/deleted; That's huge, if you think in terms of potential of people that you can reach thanks to this app.

According to a Forrester research on mobile wallets, 57% of consumers would like to use mobile wallets to save their loyalty programs, points or rewards.

Mobile wallets do solve the problem of forgetting the membership at home.

Push notification enable brands like Jacadi to remind customers about their offer/voucher and encourage them to use it.

Customers have access in real time to their information about the rewards without having the need to login into the website or ask in a shop.