Carving Labs one of the reference in terms of loyalty and drive-to-store solutions, wants to tell you more about its really cool solution, Captain Wallet.
We've shared a lot of articles regarding Apple Pay, Apple Wallet, Android Pay, mobile coupons on our blog and social media, so, what is the link between all of them? Why as a marketeer, retail manager or head of digital, should I care about this post?
You should definitely care because engaging your customers on mobile is key and central to your digital strategy.
In 2012, Apple launched the Passbook app on iOS 6 where you could store passes. The app has evolved along the years to be rebranded and renamed Apple Wallet with iOS 8.1.

Apple Wallet has two functions :
Payment, where customers can scan their credit card and pay directly via their smartphone.
Storage & content, that enables brands to deliver store cards, coupons, boarding passes, event tickets directly into the customers' smartphone and ENGAGE WITH THEM BEYOND THE PAYMENT.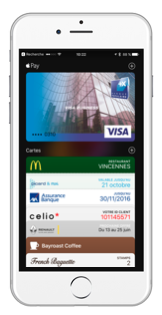 Carving Labs does not deal with the payment part, we let this complicated task to the banks. We work with the other part, giving a key positioning to loyalty programs and mobile coupons in the mobile.
Never heard about it ? Don't know how it could be useful for your business? Keep reading:
---
First of all, Apple Wallet is native
Customers do not need to install the app, it is already installed in your iPhone with the OS when you acquire it; the app cannot be deleted. We believe it is worth taking two minutes to realize the impact from a strategic and marketing point of view.
Creating an app is expensive! Between 50K$ to 1M$ (1) depending on your needs.
Smartphone users spend more than 80 percent of their [in app] time on just five apps. (2)
Brands will have max 2 or 3% active app users based on our expertise.
1 billion iPhones are in active use around the world (3). #smallpotential...
You enhance your customers' shopping experience
We all have once wasted time searching in our wallet for a store card or a paper coupon. Customers ask for it more and more: mobile coupons instead of paper coupons. It is directly stored in the smartphone: much more practical (knowing that mobile users interact with their smartphone on average 80 times a day). (4)
Mother Nature will love you
By saving trees and being finally paperless, we are in the area of digital, isn't it time to make the move...?
Tracking is key!
From the distribution of your coupon which is a simple URL that you can share with your customers by email, SMS or directly in the point of sales to redeem the coupon, you can track your customer and know who used your mobile coupon. Let's be honest, mobile marketing still needs to make business cases to show its ROI so you need to know who and how it is used + mobile is the best display to create a one-to-one relationship with your customers.



CHECK MOBILE WALLETS
A mobile coupon that is dynamic
Thanks to our wallet management tool, the brand can update the look & feel of the pass when there is the need to communicate a new offer, promotion. There is no need for the customer to download a new pass every time.
2 figures digits
We work for many different sectors and type of brands. For each of them, the transformation rate of their coupon or loyalty card in-store is a 2 figures rate. Way far from the redemption rate they usually have with their usual channel. For instance, 50% of Picard customers (french leader in frozen food) who saved a coupon in their wallet used it in-store.
The retention rate of a mobile coupon is extremely high
Based on our campaigns, up to 90% of the customers keep their mobile coupons in their native mobile wallet compared with the retention rate of basic apps that trends downward over the three months after first use, hitting 4.1% on Day 90 (5). Make the test with your boarding passes or train tickets: the probability that you did not delete them is high, you will realize that they are still stored in your mobile wallet. So the logic is the same for retail, customers enjoy having their mobile coupons and loyalty cards in their mobile wallets.
Sending personalized push notifications without having to build an app !
Once the customer has the pass installed, the brand can strategically deliver personalized messages or reminders thanks to push notifications: easily stay on the top of mind of your customers thanks to push notifications sent at a specific moment or before the expiring date of an offer. Mobile is the ally of the retailer to generate drive-to-store.
The more you read the article the more you must think I have planned my entire strategy around an app that has cost me a fortune and now I learn about the mobile wallet apps.
You can BREATHE, Apple wallet does not cannibalize your application. It is complementary and even a very good path towards the app. Wallet is the perfect incremental channel to target all your customers, whatever their engagement with your brand is and roll out your marketing operations through notifications.
Whether you are a big company or a small one with only a few shops, anyone can use mobile wallets. Carving Labs is here to help you take advantage of the solution and make the best of it in 2017.
Still have doubts ? Carving Labs won 5 prizes this year, all thanks to this solution.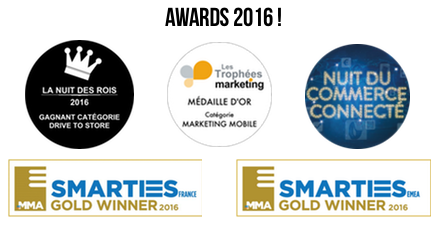 For more information, contact us here !
(1): https://savvyapps.com/blog/how-much-does-app-cost-massive-review-pricing-budget-considerations
(2): http://marketingland.com/report-mobile-users-spend-80-percent-time-just-five-apps-116858
(3): http://www.theverge.com/2016/1/26/10835748/apple-devices-active-1-billion-iphone-ipad-ios
(4): http://www.businessinsider.fr/us/dscout-research-people-touch-cell-phones-2617-times-a-day-2016-7/
(5): https://www.appboy.com/blog/app-customer-retention-spring-2016-report/