Let's talk a bit more about Carving Labs clients' this week :)
Another big player has launched a new Apple Wallet campaign this week : the famous car dealer Renault.
The offer is : do your quote online on the Renault Site and get a 15% discount on your car inspection.
The client's path is simple :
Receives a SMS with the link of the offer.
When clicking on the link, the coupon with the discount shows up :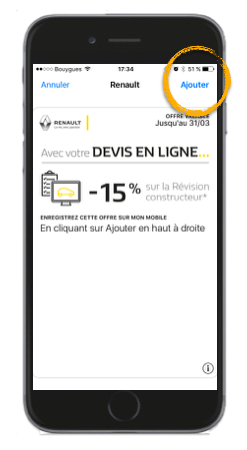 In one click the customer installs the offer on the smartphone. The brand has then the possibility to send reminders about the offer via push notifications.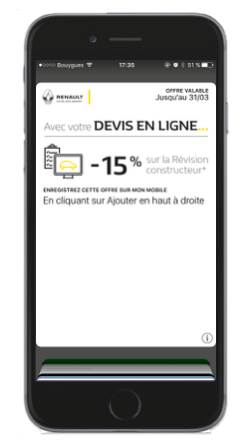 Retailers are aware of the difficulty of having a lasting customer engagement on mobile. Mobile wallets allow marketeers to engage easily with their customers on the mobile without the need of having their own app.
At the back of the coupon, the client can directly access the Renault online quote :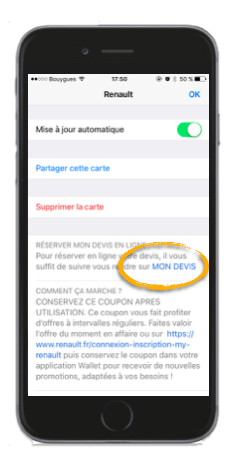 The benefits of this wallet campaign for the brand are :
Communicate through a digital channel.
Use the wallet as a complementary communication channel.
Be in the customer's smartphone in just two clicks.
Be able to send reminders about the offer to customers.
Track easily who benefit from the offer.